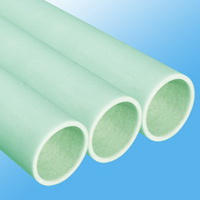 Epoxy glass cloth laminated tubes are formed by hot rolling,baking electrical insulating glass cloth impregnated with epoxy phenolic resin under heat and pressure. insulation tube with mechanical and electrical application, The Insulation tube can be processed into all kinds of insulation parts, The products are widely used transformers, electric motors, cabinets, control boxes, electric switches, household appliances, railway, automobile, computer and medical appliance,etc,available for transformer oil.
  EPGC21 tube: Mechanical,electrical and electronic applications. Extremely high mechanical strength at moderate temperatures. Very good stability of electrical properties when exposed to high relative humidity.


  EPGC22 tube:Similar to EP GC 21. but with high mechanical strength at elevated temperature.
  EPGC23 tube: Similar to EP GC 21, but with improved flame resistance.
  Length: 1000mm
  Inside Diameter: 10゛200m